AboutMore Than 5 Decades of Leadership in Ultrasonic Technologies

Since its inception in 1969, Sonics & Materials, Inc. has enjoyed over 5 decades of world leadership in the fields of liquid processing and ultrasonic welding, sealing and cutting technology. The company is ISO 9001:2015 certified by DQS Inc. and is consistently in the vanguard of industry innovators. Leading the way in research and applied technology, Sonics is dedicated to providing the highest quality products and real world manufacturing solutions, backed by comprehensive technical support and applications expertise.
Manufacturing Divisions
Sonics is comprised of the following manufacturing divisions: Plastics Assembly, Liquid Processing, Metal Welding, and Ultrasonic Cutting and Sealing.

Global Sales and Distribution Network
Sonics' Corporate Headquarters is located in Newtown, Connecticut, USA and there are over 50 international distributors with locations in Europe, Asia, Africa, South America and Australia. This global network allows Sonics to provide fast response to our customers worldwide and guarantees them superior access and ease of doing business.
Customer Support
We have built our business on the principle of being a valued business partner to our customers. Therefore we devote a great deal of time and resources to working with customers to explore new applications, application modifications, and product customizations. For more information, click here.
Our Leadership Team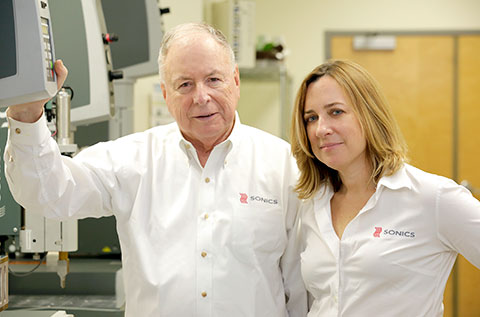 Sonics is headed by CEO Robert Soloff and his daughter, Lauren Soloff, President. Robert Soloff founded the company in 1969 and Lauren Soloff transitioned from her law career to come on board in 1995. Working together, they have tripled the company's annual sales over the last 20 years.
Patented Technology
Robert Soloff received his first patent in 1962 (for a sonic spray nozzle) and went on to invent the process of ultrasonic plastics welding one year later. After founding Sonics in 1969, and through the next 5 decades, he has continued his pioneering work in the field of ultrasonics, accruing an impressive 13 patents in his own name and overseeing an additional 18 company patents. For more information on Sonics' patented technology, click here.
Our Marketplace
Automotive, industrial, medical, chemical, research, food, packaging, toy, appliance, consumer electronics and synthetic textile manufacturers around the world use Sonics' standard or customized equipment to process the full spectrum of commodity, chemical and engineering polymers. To view a more complete list of industries served, select one of our divisions and view the Industries Served tab under About.
Our Mission
Sonics' mission is to lead the industry in delivering superior technology and high-performance products backed by unmatched customer support, while sharing with our business partners and customers the unique ultrasonic knowledge bank that we have acquired over 5 decades. Sonics also looks to advance the industry further by cultivating an environment that fosters the spirit of innovation and creativity upon which the company was founded.