Advanced Ultrasonic Systems for Textile and Nonwoven Applications
Sonics offers a complete line of specialized equipment and components for textile applications such as continuous bonding or slitting; punching; plunge bonding; and hook and loop (Velcro) bonding. Using ultrasonics for these processes provides superior performance in terms of speed, safety, cost-effectiveness and smoothness of finished edges.
Tools are manufactured in-house by a precision wire EDM process that reduces stress for longer life. Sonics provides full customization of OEM components, kits and horns.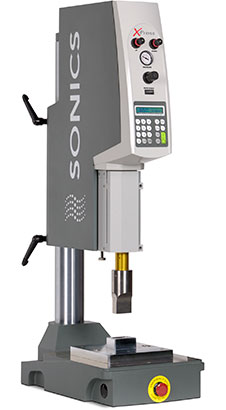 Features:
Stackable, ultrasonic power supplies and panel mount generator kits for NEMA enclosure, integration and sequencing
Rigid mount ultrasonic boosters for improved process stability
FEA computer-modeled horn designs for reduced stresses and improved amplitude uniformity