Advanced Ultrasonic Systems for Face Masks and other Textile & Nonwoven PPE Applications
Sonics offers a complete line of specialized ultrasonic equipment and components for face mask and other PPE textile applications such as continuous bonding or slitting; punching; plunge bonding; and hook and loop (Velcro) bonding. Using ultrasonics for these processes provides superior performance in terms of speed, safety, cost-effectiveness and smoothness of finished edges. Applications include face masks, surgical gowns, protective face shields and many others.
---
Innovative Plastics Welding Systems and Components for Medical Device Applications
Sonics manufactures a comprehensive range of medical-device capable plastics welding equipment, tooling and components, from hand-held units to bench model presses to ultrasonic kits for OEM installation. Ultrasonic plastic welders, including ElectroPress welding systems with superior precision control, staking/inserting machines, and custom tooling and fixtures are available.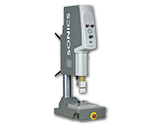 Ultrasonic plastics assembly systems in 15, 20, 30, 35 and 40 kHz frequencies.
More >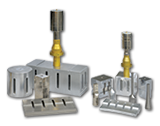 Custom design and machining of tooling and fixtures for ultrasonic plastics, vibration and spin welding.
More >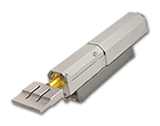 Ultrasonic kits and stack components for installation into special assembly systems.
More >
---
Call 800.745.1105 or fill out the form below and a Sonics rep will respond.
---