Advanced Ultrasonic Systems for Food Cutting Applications
Sonics offers a complete line of specialized equipment and components for ultrasonic food cutting. Compared to conventional cutters, ultrasonic food cutters are more sanitary, with less down time, better cost-effectiveness and increased consistency at the cutting surface where the blades stay sharp longer.
Cutting tools are manufactured in-house by a precision wire EDM process that reduces stress for longer life. Sonics provides full customization of OEM components, kits and knife horns. Typical applications include cheese cutting; cake and dessert product cutting; confectionary product cutting; meat cutting; sandwich and wrap cutting.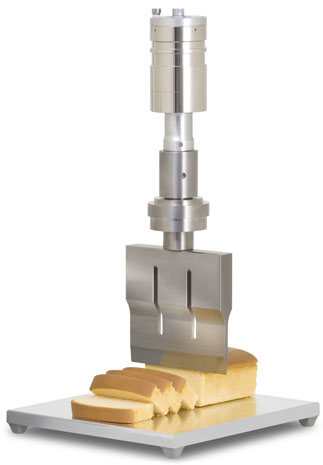 Ultrasonic Food Cutting Features:
Stackable, ultrasonic power supplies and panel mount generator kits for NEMA enclosure, integration and sequencing
Rigid mount ultrasonic boosters for improved stack stability
Wash-down duty, air cooled converters (stainless steel body also available)
Food industry approved titanium blade, slitting and knife horns
FEA analyzed horn designs for long life and amplitude accuracy
Read here about how ultrasonic food cutting works and why you should consider it.