Sonics is structured to serve the OEM market, and over the years we have accumulated more experience working with OEM applications than all other ultrasonic companies combined. Our contributions have been numerous and applications diverse; from preparation of samples for particle size analysis and dispersion of nanomaterials to the dissolution of reagents for diagnostic investigations.
For most applications we have at our disposal a wide selection of proven products – from 50 watts to 1500 watts – designed specifically for the OEM market. They are readily available, and cost effective. In addition, we can provide application-specific variations of our core products to suit unique requirements.
Our engineers are among the most knowledgeable in the field of ultrasonics and they typically devote as much time working collaboratively with our customers, as they do in our plant, designing and refining new products. Their involvement with a variety of critical projects has compelled us to develop robust equipment that can withstand the rigors of industrial environment, establishing our company as the supplier of choice for demanding ultrasonic applications.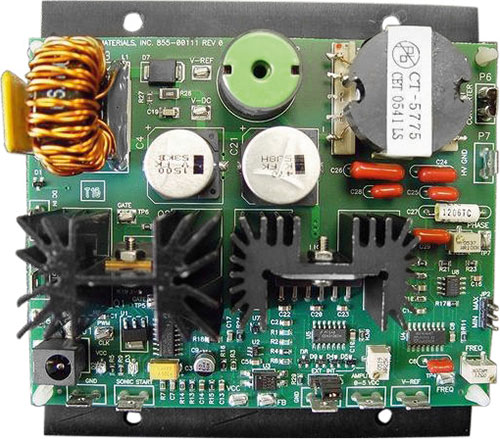 50 Watt Board
(with mounting plate)
Overall dimensions:
4.75" (120.7mm) W x 4.75" (120.7mm) L x 2.2" (56mm) H
4 Mounting holes - .200" (5mm): 2.75" (70mm) x 3.45" (88mm)
---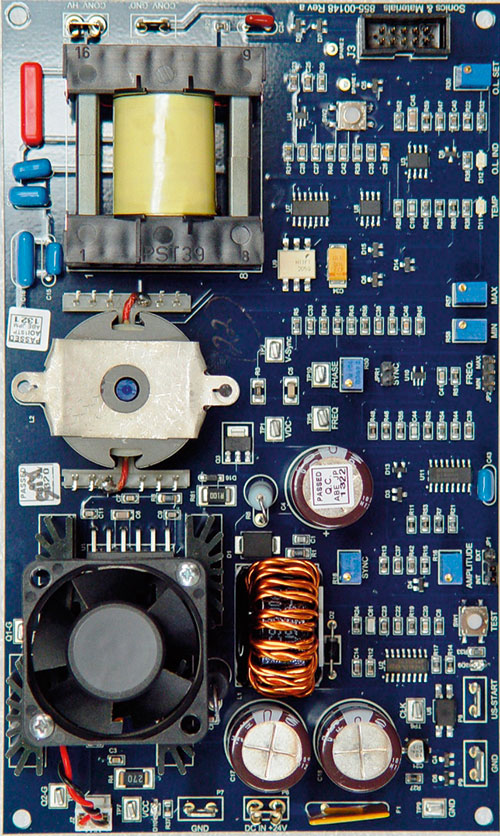 100 Watt Board
Overall dimensions:
4.5" (114.3mm) W x 7.5" (190.5mm) L x 2.2" (56mm) H
4 Mounting holes - .156" (3.96mm): 4.2" (106.68mm) x 7.2" (182.88mm)
---